A lot is going to happen in the Atlendis World this month! Here is an overview of what's coming up on the agenda and where you can meet the Atlendis Labs team.
ADAN's Crypto Finance Forum on Monday, July 18
ADAN is organizing the second edition of the Crypto Finance Forum (CFF) to bring together the crypto industry, public authorities and institutions. The CFF is a place of exchange between crypto players, companies and startups, policy makers and authorities. After a year full of events, this new conference will highlight the ongoing innovation, growing adoption, regulation at work and growth dynamics driven by the crypto sector in France and Europe.
Adan brings together digital asset and blockchain professionals in France and Europe. Its members cover a wide range of activities, including markets, preservation, payments, management, analysis tools, project and user support and security.
Don't miss the round table featuring Charlotte Eli, Co-Founder and Chief Research officer of Atlendis Labs at 1:30pm: "Web3, DeFi, DAO: where does decentralized innovation stop?" The panel is moderated by Valentin Demé (Cryptoast) and includes the participation of Ambre Soubiran (Kaiko), Pablo Veyrat (Angle), and Marc Zeller (Aave).
Polygon Connect on Monday, July 18
Polygon Connect is being held on July 18th in Paris. Join Polygon for this free day of workshops, panel discussions, keynotes, and demos. Alexis Masseron from Atlendis Labs will present "Bringing institutions into the Polygon ecosystem through Atlendis' capital-efficient DeFi credit protocol" followed by a demo of Atlendis!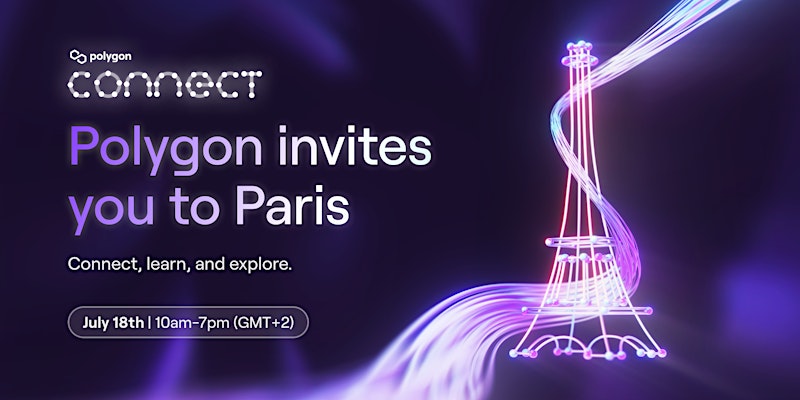 Kickstarting the EthCC Week on the evening of Monday, July 18
EthCC week is packed with events. The week will be off to a good start with the "Future of France" event, uniting the vibrant french blockchain ecosystem.
On Monday, July 18th, at 7pm, Atlendis is hosting the "Future of France" event alongside partners Aleph.im, Morpho, Paladin, Adan, Angle, APWine, Jarvis, Mangrove, ParaSwap, Sismo and Synaps. Hosted in a gorgeous hôtel particulier near the Maison de la Mutualité, this will be a great opportunity to meet old and new friends while enjoying cocktails in the garden and live DJ music with partners in the French blockchain ecosystem.
EthCC: July 19-21st
EthCC is the Ethereum Community Conference and the largest annual European Ethereum event focused on technology and community. Join Atlendis for three intense days of conferences, networking and learning.
Wednesday July 20th
Atlendis Labs will be speaking during EthCC at 4:55pm on Wednesday July 20th in the Sorbonne room of the Maison de la Mutualité. Alexis Masseron, Co-Founder and CEO of Atlendis Labs will present "DeFi 2.0: use cases highlighting how Web3 actors can benefit from uncollateralized loans," followed by a Q&A session.
Attendees will learn how DAOs and DeFi protocols can rely on undercollateralized loans through trustless smart contract integrations to cover their exploitation costs.
Find out more and stay up to date
For more information and to stay up to date on all Atlendis Labs news and events, please follow Atlendis' official Twitter and sign up for our newsletter here. You can also reach out to the team by joining our community on Discord.
Additional Resources
dApp | Atlendis.io | Whitepaper | LinkedIn | Twitter | Discord | Newsletter | Audit reports 1 and 2 | Bug bounty program